Feel consistently creative and alive!
Root yourself in breaks
that nourish your creativity

How often has it felt like you are either taking care of everything that is important in your personal life OR spending time creating?

How often has a detailed week-plan felt like a burden on top of your to-do-list and kept you from feeling creative?

How often have you wished for a refreshing break but felt afraid to waste time that you could be creating?
You already know that a helpful routine will make you feel
confident
and in control.
Because it is
relaxing
when you take care of everything in your life that matters to you.
Being relaxed frees your
intuition
to guide you through your life and creating times. And that´s our goal as creating people, right?
So, let´s find
your personal balance
between structure and flexibility and know exactly when to
create and take breaks
.
Let's enjoy our ideas and our creating times while living in a
sustainable,

self-respecting way
.
I want for you to live and work rooted in breaks that truly
refresh
you and remind you that
you matter
- your creating flows from your being!
You too?
I am looking forward to seeing your creating times
bloom
wild and free
!
Jasmin
Take that image of your unblocked intuition guiding you through your week and
your creating times:
︎You have the inner peace and freedom to wait for the next practical steps to come to you instead of crunching ideas til late at night. ︎Settling into the belief that you are worthy of the joy of creation gives you the will power to endure stretches of boring consistency of tasks that have to get done. ︎Resting in your self trust you feel encouraged to keep working on that project even though when you woke up this morning it all felt too big, too slow and too hard. ︎Rooted in a helpful mindset and rituals you attain a flow with time that makes the limitedness of time shrink and
your excellence
shine.

What you will find in the
INTUITIVE ROUTINE COMPASS

:

Root yourself in refreshing breaks!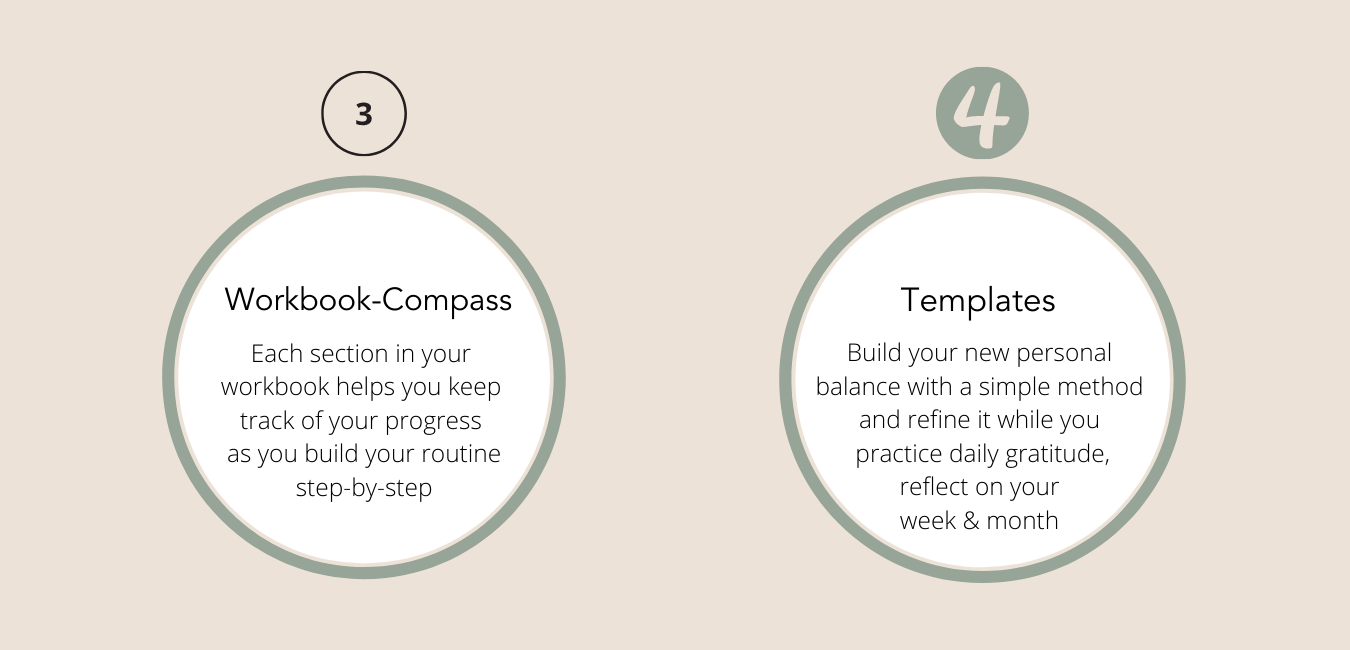 The
Intuitive Routine Compass

at a glance:

Feel consistently creative and alive!

︎

Six 5min-videos for your mindset-focus to view at your own pace.



︎

Six 5min-videos for your guided step-by-step in your workbook to view at your own pace



︎

Beautiful printable/typable workbook with stations to track your progress and build your balanced routine in an intuitive way



︎

Helpful templates to build & refine your intuitive
routine, grow in mindfulness and help you take care of healthy lunch breaks



︎

Soothing ringtone for your phone-timer to ease you into your refreshing breaks



︎

My favorite lunch-recipes and my method for meal planning for your quick and refreshing lunch breaks
Nourish your creative being

now for



Only 37€
excluding taxes

I am Jasmin - artist, composer, empathic truth seeker. I am familiar with high sensitivity and feeling close to inanimate objects, nature and animals. My core values are time and growth.

I´m a creative and multi-talented person but I have always known that creativity is more than making art - it is the essence of every human being.

From my experience, we are more creative when we grow personally. Constantly renewing the self - a kind of soul making - is the highest form of creativity.

That is why I developed this mini course:
It is important to me that you take breaks and have time off so you feel refreshed to keep being creative, feel freed up to take uninterrupted times to create and feel the permission to reconnect with yourself so you will live and own your story with clarity and peace.


You matter.

Walk your own path.
Questions & Answers
How will I receive my Intuitive Routine Compass?
After your purchase, you will receive an email from me starting July 27, 2021, with a PDF that includes all info and links to videos, workbook, templates and bonuses.You will have access to everything for as long as I am offering this mini course.
Who is this product for?
This self-learner mini course is for you if you want to
spend more time creating and
rooting yourself in a mindful, self-respecting way of living.
What happens if I´m not happy?
This mini course is a digital product which you have access to immediately.
The approach and tips are based on routines that I have created for myself and that I find very helpful for my personal wellbeing and creative productivity.
If you should get stuck at some point in the course, please send me an email. A refund is not provided.
How do I pay?
I am using Digistore24.com to help me manage your payment.
Your receipt will be issued by them.

With your Intuitive Routine Compass
you will create a personal balance
that roots you in breaks
and nourishes your creativity.
Free your intuition to guide you
through your week
and your creating times!

Jasmin Seidl Boddinstraße 20 12053 Berlin jasminseidlmusic@gmail.com


Photos on this page: header image left by Ann Nekr. All others by @ali_thewanderer